Tea Ceremony & Singing Bowls
- 3 hours to relax & reset
We offer effective techniques for relaxation and regeneration of body, mind and soul. First, you are going to lay down and bathe in vibrations and sound of Himalayan Singing Bowls combined with a voice-guided meditation method followed by a Tea Ceremony which originated in Zen monasteries. Participating in a live sound performance is an uniques experience. Yuliya uses 14 full moon singing bowls, each of them creating a wide spectrum of vibrations and sounds. The body and mind respond to the waves and become more receptive. Then we sit for a tea ceremony. Tea is a medium which has for centuries been used for contemplation, meditation and elevation of mind and spirit by monks, sages and scholars, as well as medicine by aboriginal tribes.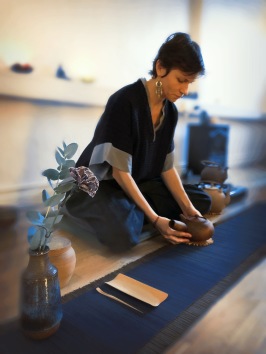 Have you felt that there is more to life than just getting and achieving? Have you been distracted so much that you can't rest? Have you struggled to relax in your home environment? Would you like to hear the whisper of your soul about something important, that you have no idea you had forgotten?
Join Yuliya in Yogini, on Sunday, 29 November at 11:00-14:00.
Places are limited to max 6.
Exchange 500 kr.